1/3
The Future Of Creative Expression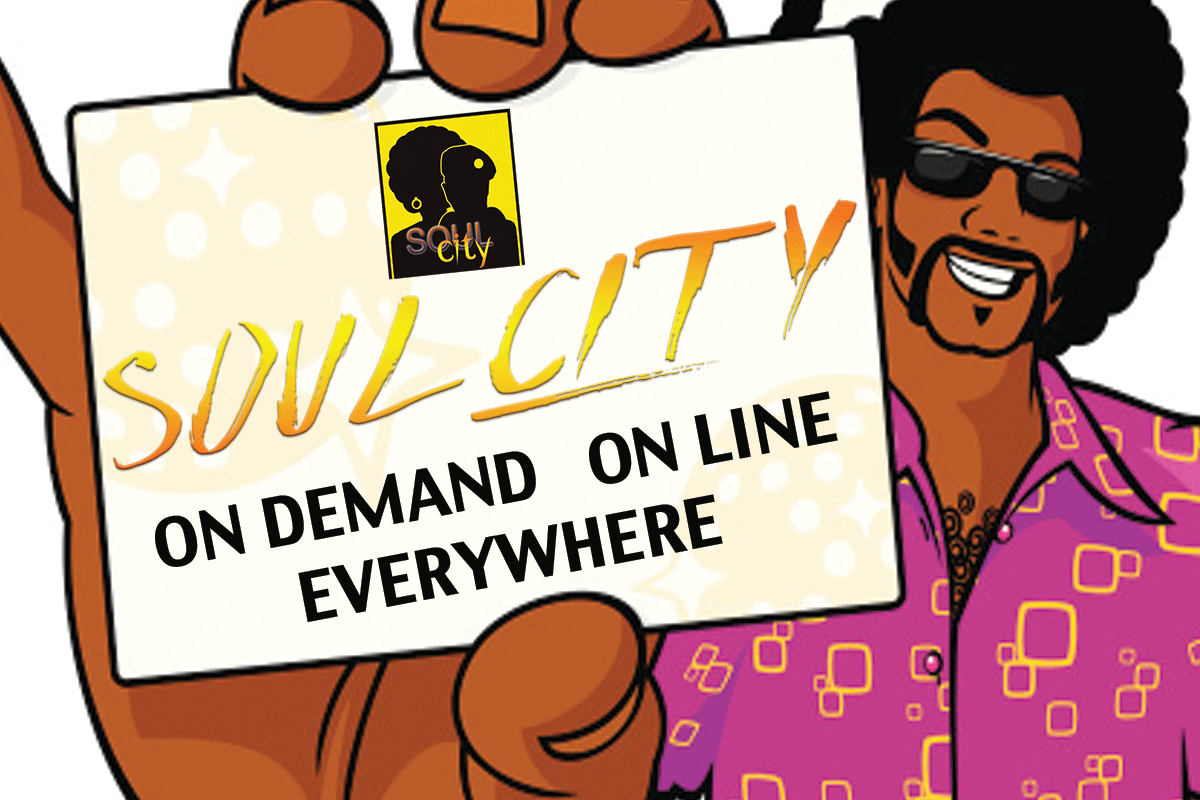 "Soul is a ham hock in your cornflakes!" - George Clinton
What better way to explain what Soul Is? It's the unexpected. To others it's a shocking moment but to the creative mind it's the realization of what you know is already within you. Soul City is to social media and television what sugar is to lemonade. Lemons have their purpose but add a couple of teaspoons of sugar and you have a cool and sweet taste for the senses. Soul City brings to life the talents and ideas of millions of creative people while satisfying the tastebuds of others looking for something different. Soul City is the platform for all things new. All things exciting. All things Soulful.
This is the dawn of a new era in Social Media and Television. Say goodbye to boring reruns and old recycled ideas and say hello to the Soul of Creative Expression!
Soul City is distributed to over 100 million homes across America on the #1 cable TV platform, ON Demand via Comcast, Verizon Fios, Xfinity, Frontier, AT&T, DirecTV and Spectrum. Add to that the 145 million Verizon Wireless Subscribers, Roku and a very unique social media site and you have billions of people at your finger tips. Every Artists and every fan can find access to each other through Soul City.
From Talk Shows To Music Videos, We have everything you can imagine. Meet the hosts of our programs:
Our website is unique designed to look and feel like a very soulful and modern city. It gives the members a place to express and see how others display their talents and express themselves. It's the perfect compliment to our Cable TV platform. Become a star online and chances are we will see you and put you on TV and or one of our many big events. When you are a citizen of soul city you have access to everything that we do and what our sponsors have to offer. We are the coolest of all social media sites. We are the Social Authority of Urban marketing and content.
There is also an online magazine created mostly by the members. Members get to write articles and express their thoughts and feelings. The new website will be available on December 1, 2017.
Soul City is not just your normal TV programming network. We create outstanding and ground breaking events just for the fun of it! Our special events always bring the entertainer and the fan into the same space. A space where interaction and action hold hands to form the perfect union of the Soul.
Whether it's Mixed Martial Arts, Concerts, Poetry Slams or business forums, we bring it direct to you online and On Demand through cable with behind the scene interviews and information.
Citizens
Being a citizen of Soul City really has it's privileges. As a citizen you get your passport to everything Soul City has to offer at anytime. You'll also be eligible for free give aways, discounts on events and the opportunity to make money as a writer, content provider or business.
Partners
We take pride in establishing relationships with various outstanding organizations and people that partner with us to make sure that we are giving our viewers and members the best in what there is to offer. Our partners include: Anaj Enterprises, LiveStream, Youth On The Move, Dream Big, and a variety of sponsors and advertisers focused on making a Positive Community.
Contest
We specialize in outstanding events and contest created to stimulate the energy and opportunities for the talented members to shine brightly to the world. We put our money on it with great prize funds to compliment the events. Contest are available for all members 18 years and over. Contest include: Unleash Your Soul, Cyber Clash Female MC Battle, Comic Clash, Brawl For It All MMA Tournament and the Slam Dunk competition. For the business minded and entrepreneurs we have the Drive To Success competition. Sign UP Now!
Stream Soul Live
Your Favorite music stars, comedians, and mixed martial arts are broadcasted live via pay per view. No longer will you have to wait for your favorite artists to come to your city. No longer will you have to stand in long lines and pay extreme prices for tickets. Soul City has you covered live online with the biggest stars and hottest new artists. Some events will really make your mouth water!
Community
We are dedicated to make all people to find unity through soulful interactions. At the same time we are dedicated to uplift the Urban Communities in a positive way through programs and events. Positive Community is what we strive for. Positive outcomes is necessary.
Films
We feature new film makers and their work. Our Network will have plenty of exciting festivals and screenings as well. We also have some very exciting feature films coming soon that will be ground breaking and cutting edge. Stay tuned and look for exciting information coming soon.